B.I.G. Awards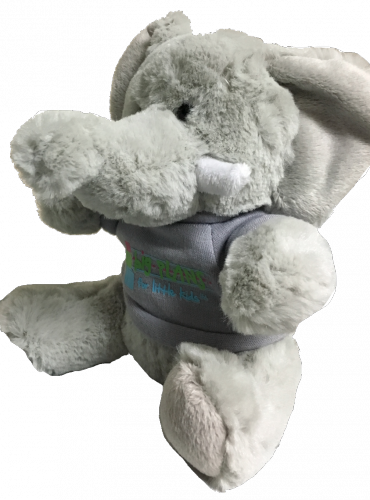 Every month this school year, we were privileged to recognize the demonstration of Brilliance, Inspiration, and Greatness (B.I.G.) of the individuals we work with. These qualities were evident in their work with our teams, families, and schools. Visit this page to read about some members of our remarkable team!
Those who were nominated for the B.I.G. award demonstrated "Brilliance, Inspiration, and Greatness" (B.I.G.) through their work on our teams, with our families, and in our schools.
Each nominee also had their name entered into our monthly B.I.G. awards draw for B.I.G. (our Big PLANS Stuffed Elephant).
The winner of the final June draw for B.I.G. is Jennifer Cross! Congratulations!
June 2018 B.I.G. Awards
Katerina Dunajska – Child Development Specialist
Katerina is a tremendous team player and team supporter. Not only is she interested in being a participant during therapy visits, but Katerina is readily aware of the child's goals and is eager to provide her therapists with updates and feedback about how the children are doing when she works with them! Katerina takes the therapy tools used and can transfer them into a classroom setting with many eager kids. She has a fantastic rapport with the teachers in the classrooms and makes her students feel empowered and capable of shooting for the stars!
After graduating from the Faculty of Natural Sciences of the Comenius University in Bratislava, Slovakia to be a teacher of math and geography at a High School level, Katerina taught for one year at a school in her hometown. After that, she moved to Canada (in 2000) with her husband, Daniel. Katerina always wanted to be a stay home mom to enjoy as much time with her children as possible before they left for school. Her dream came true. She eventually started a small day home business and when her youngest daughter was finishing Kindergarten Katerina was introduced to Big PLANS. Katerina fell in love with her job right away. Now a proud mom of three children (Nella 17, Martin 14 and Diana 12) and married to Daniel for almost 19 years, Katerina feels privileged to experience a new highlight of her career every day as she watches "her Big PLANS child " progress and grow. Every day, when Katerina drives to work, she feels honoured to have the opportunity to help children and their families. She is incredibly happy to be a part of such an incredible team of professionals that helps her overcome new challenges.
When she isn't at work, Katerina is managing her busy family with two competitive swimmers and her oldest daughter who coaches a younger age group in the same swim club. With swimming taking up most of their time during the school year, Katerina loves to spend any remaining leisure time being outdoors with family and friends. As a family they enjoy travelling, exploring new places, hiking, backpacking, camping, in winter snowshoeing. Katerina loves hiking so much that she prays that she will be able to continue for many more years and recalls her favourite birthday celebration being on Mt. Temple (3544m) last year. When she isn't driving her children or watching them swim, she loves to run, go to the gym, play volleyball, snowshoeing, cook and bake for her family.
Sara White - ELL Therapist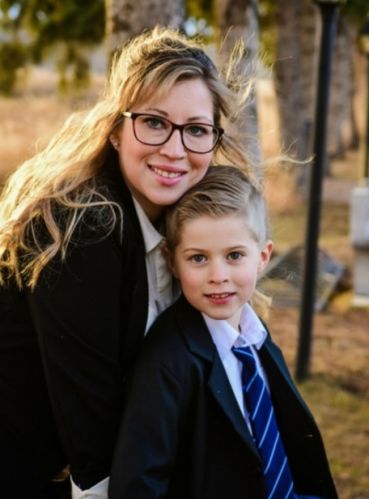 New to Big Plans this school year, Sara fit into her role so seamlessly it feels like she has been with us for years. Sara is a natural teacher, and it is obvious she has a real passion for supporting the little ones in her care to reach their full potential. She works hard to create engaging lessons which accurately target the learning outcomes. Most of her activities are hand-made, and Sara's students have so much fun learning with her. Parents have commented that their child counts down the days until they get to spend time with Sara. We're glad you joined us at Big Plans Sara!
Born & raised in Calgary, Sara holds a diploma in Arts & Science, Petroleum Land Administration and a certificate in Aboriginal Consultation and Awareness. After her contract in Oil and Gas/ Telecommunications ended in 2014, Sara felt the need to do something that would make her happier. With a love of children, Sara applied for a job working with preschoolers and hasn't looked back since. She joined the Big PLANS team this fall and watching the 13 children she works with grow developmentally and hit milestones makes Sara so excited for their futures. When she isn't working, Sara can often be found helping with her seven-year-old son Bradley's Lacrosse team and enjoying their spunky thirteen-year-old teacup Pomeranian named Fefe. This very busy single-parent mom also finds time to enjoy life. Not only is she very crafty (likes making crafts, soap, bath bombs, and baking/cake making), but when she can fit it in she enjoys line dancing & west coast swing and loves to go out hiking, kayaking and Paddleboarding. She also would have a hard time giving up her Village Ice Cream (the kind made with coconut milk as she has a dairy allergy)! Every Christmas Sara also goes with her son to help with the Adopt-a-Grandparent program in Calgary. Together, they deliver gifts and visit with seniors who do not have family visiting during the holidays, and Sara has met the most amazing seniors through this program. When asked about her most memorable moment, Sara admits it was the day she had her son. She was 22 yrs old and had just finished helping a family friend with harvest on their farm, so was on a tractor for five hours before driving to the hospital to deliver Bradley! Those who know Sara will agree that she truly lives by a lesson her mom taught her, "Always be kind and have compassion." Sara strives to live her life according to this, and it is filled with so much love!
Heather Mackie - Child Development Specialist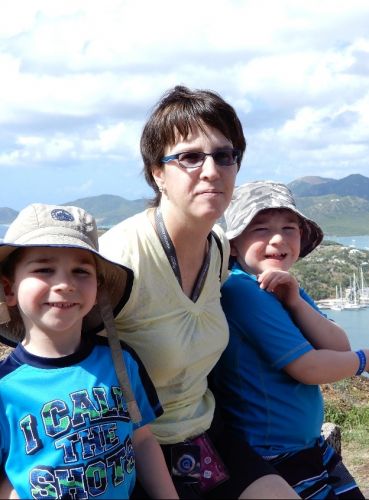 Nominated by her team for being an invaluable member of the Big PLANS team and Foothills Lutheran classroom, Heather is an independent worker and a self-starter. She has done a fantastic job creating activities and using different strategies to work on goals in the classroom for each child. Meticulous and organized, Heather also demonstrates the ability to work with a wide variety of clients and areas, from higher level language and problem-solving skills to behaviour management, language modelling and social communication skills. She has excellent therapy skills and has diligently tracked the progress of each of her children and can provide feedback and suggestions to team members. She has a thorough depth of knowledge on child development and is intuitive at finding the 'just-right' challenge for each child she supports. There appears no-challenge-too-big that Heather can't handle - with kindness, confidence and grace. From challenging tantrums to making connections with hesitant families, Heather has helped to facilitate the maximum growth for each child that she supports. Heather is an active participant in all home sessions from planning to execution, and her understanding of each child's needs and the strategies used by the therapists has allowed her to be very successful this year.
"We have greatly appreciated having Heather Mackie in our classroom this year supporting three of our students. The needs of these three are diverse, but Heather interacts well with each of them and meet their needs appropriately. Each of the children has made great gains, and Heather has been able to earn the trust and gratitude of the parents of these children. As a staff, we appreciate Heather lending a helping hand in our classroom if one of her three students is ill and not in class that day. Not only does she have a positive attitude and friendly manner, but she is skilled with those who have separation anxiety or have trouble with focus." Betty Ann Chandler, Preschool Teacher at Foothills Lutheran.
Heather has been at the Calgary Winter Club Preschool for 20 years. After spending the last ten as the Preschool Director, and watching Big PLANS work in her Preschool, Heather was ready to get back to working one-on-one with children so joined the Big PLANS team this past fall. With a Bachelor of Education (Elementary), Heather is a natural at helping children be the best they can be. Seeing their success and celebrating their accomplishments is her greatest reward. With a knack for turning activities into games, doing crafts and the ability to be creative, it is no surprise that the children love Heather. When she isn't in the school, Heather enjoys playing with her nephews, doing jigsaw puzzles and lawn bowling. In fact, in 2014 she won the Silver medal in the Canadian Mixed Pairs Lawn Bowling Championship! Her favourite colour is blue; craft is cross-stitch and food is chocolate chip cookies. Heather lives by a lesson her mom taught her, "If you want others to treat you nicely, remember to do the same to them."
Stephanie Meili - Child Development Specialist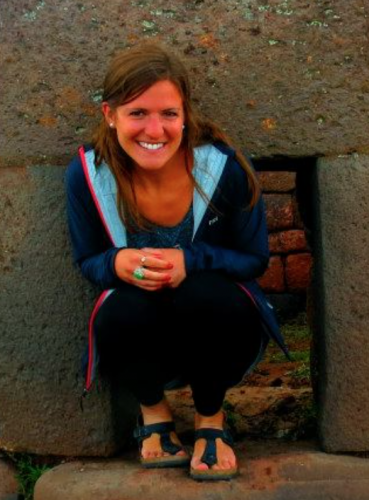 Steph is someone you can count on to rise to any challenge. She has a vast amount of "tools" in her support toolkit, and she puts them to good use to help the children in her care. Steph has strong intuition and insight for the supports and strategies that will benefit her students. Her students thrive under her guidance. Steph has made big and brilliant impacts in the classroom. We are so grateful she was able to join our team!
Stephanie first joined the Big PLANS team in February 2013. She had just returned home from travelling for five months through South America and was looking for a new job; however, wanted an occupation that would challenge her and fulfill her desire to connect with the community in a meaningful way. A close friend of Stephanie's was working as a Big PLANS CDS at the time, and Stephanie soon became energized and excited by the opportunity to get some hands-on experience in this field. Stephanie approaches her work as a learner, rather than a "specialist" which is what excites her the most. She considers learning from the children and families she supports an immense privilege. Stephanie finds it rewarding to watch the children whom she has worked alongside grow, mature and experience success in their elementary schools. In 2013, Stephanie worked with a kiddo and followed them for three years, both in their school and in their home. Now, 5.5 years later, Stephanie is able to watch them succeeding in Grade Two, still using tools and self-care strategies they practiced together. Holding her Bachelor of Kinesiology from UofC, Stephanie is currently completing her Masters of Child and Youth Care from UVic thesis with research focusing on inclusive sex education curriculums. She was also awarded the Spirit Bear Foundation award for research completed in the field of child counselling and psychotherapy. Stephanie enjoys incorporating yoga, meditation and mindfulness practices into her personal life. She finds the benefits to this practice twofold; it helps her to be fully present and open at work, and she can also teach some of these skills to those whom she supports. In her free time, Stephanie loves to be outdoors, whether that means snowboarding in the winter or hiking/running/biking in the summer. Her favourite part about having summers off is the opportunity to live out of her tent as much as she is able. She actually has dreams to live out of a van or bus for a year, travelling to different cities meeting new people and eating good food! Stephanie would find it impossible to give up music as it seems she always has a soundtrack running in the background of her life and she enjoys dancing with friends. As often as possible, Stephanie tries to volunteer at music festivals as a fun way to contribute, show support and enjoy the art, culture and music.
May 2018 B.I.G. Awards
Mrs. Carolyn Fraser - Teacher at Wildwood Playschool
'Mrs. Fraser' was nominated this month by one of our CDS's who feels lucky to have the opportunity to work with her and has learned so much. Not only does Carolyn always have a smile on her face, but she also creates a cheerful, friendly, and calm atmosphere in her class. Carolyn is the best problem solver, is fair, flexible, calm, willing to help, ready to play and never afraid to have fun! Carolyn is an amazing team player!
For as long as she can remember, Carolyn has wanted to be a teacher. Holding her Bachelor of Education (with a Major in Early Childhood and Reading) from the University of Calgary, she has now taught for 35 years (kindergarten for CBE for 9 years and a teacher at Wildwood Playschool for 26 years) and can't imagine doing anything else. For Carolyn, playschool is her happy place. Not only does she love every child, but she also strives to make each child understand how special they are. Her love for children is evident as Carolyn was a puppeteer for many years and performed for children's birthday parties, in the library, and for Christmas parties! Her knack for communicating with children is natural and her students feel comfortable interacting with her. From art and craft activities and children's literature to sign language and music, Carolyn loves to share things with her students. Carolyn was first introduced to Big PLANS in 2013 when one of her students was being supported. Now, Carolyn feels like the support of the team is a huge part of how they can meet each child's individual needs. Besides being rewarded by watching children succeed, this organized teacher appreciates the great ideas that are shared, the fun interactions, the new friends she has made, and the great support.
Growing up in southwest Calgary, not far from where she lives now, Carolyn is happily married to Tim (37 years) and is a proud mom of two daughters (Emily – 31 and Ivy – 28). Emily currently works with pregnant and new young mom's and Ivy is a nurse. When she isn't working, Carolyn enjoys being with her family and loves being outdoors and exercising. In fact, she would find it hard to give up one of her favourite activities - hiking with her husband. Also high on that list includes coffee, apples, picnics, and Zumba! One memorable moment was when she hiked the West Coast Trail with her family and some friends. Along with hiking and snowshoeing, Carolyn spends time with Emily and Ivy going to barre class, aerial class, rowing class, and whatever other activities they include her in. She also enjoys entertaining family and friends (cooking meals and spending time together) and enjoying her deck in the summer and her fireplace in the winter with a good book to read (especially if it is about health and children)! As someone who delights in being busy, Carolyn has also taken up a new skill – she is learning to play the ukulele!
Kara Michaluk, BSc., OT(c) - Occupational Therapist,
It is our pleasure to nominate Kara Michaluk for the B.I.G. award. Kara establishes strong and meaningful relationships with parents, children, and the teams she works with. She engages her kids with innovative strategies to keep them motivated and focused throughout the whole therapy session. Kara always ensures the parents have the tools to help their child succeed at home, she has excellent communication skills and collaborates with the entire team to ensure the success of the child. Kara is indeed an "inspiration" to all who are fortunate enough to benefit from her gift as a highly skilled occupational therapist.
Kara admits that the most significant influence in her career choice was her mom who was a nurse for 41 years. Although Kara knew she couldn't be a nurse, she wanted to do something to help people, and Occupational Therapy made sense. Growing up in Prince Albert, SK, Kara moved away to attend the U of A in Edmonton. After graduating in 2000, Kara started her career working with adults. She has worked in Corrections, Home Care/Community, and Accessible Housing. Looking back, she realized that the thought of working with kids scared her until she became a mom herself and took time to stay home with her children (son Davis - 12 and daughter Avery - 9).
When Kara's son was in his second year of pre-school, she was introduced to Big PLANS and was offered a chance to join the team. However, the timing was not right until 2014 when Kara's friend and past co-worker asked if Kara would be interested in taking over her Big PLANS OT position at one of the schools. Not only was it close to home, but the timing was also perfect, and Kara's son had attended that school. It was an easy decision. A real people-person with a knack for building relationships, Kara has been an asset to the team ever since. Believing everything can be accomplished having fun, Kara is most passionate about empowering parents and tries to remind them of what they already know (i.e. Back to Basics and The Power of Play). As a member of the community she works in, Kara's most significant highlight is running into the kiddos and their families and hearing about their progress and seeing how they have changed and grown. Kara's listening skills and her ability to be empathetic, flexible, realistic and patient have made her very popular with the families. In fact, one student was going to see Santa and Kara both on the same day but told her mom she was most excited about seeing Kara!
Kara met her future husband, Lyle, in Saskatoon in 2001 (just two weeks before he moved to Calgary). After two years of long distance, Kara took a leap of faith and followed him to Calgary. The rest is history! Now, Kara's life happily revolves around her kids. She can be found volunteering at their school, cheering them on at the hockey rink, swimming pool, piano lesson, school sports team, and lacrosse box and field. She is also blessed to have her family close and great friends and neighbours to spend time with. Kara loves yoga, spin, mountain biking, ringette, walks, surfing, volleyball, reading, card and board games, knitting and other crafts. Her happy place is their cabin at Lake Koocanusa where they spend holidays and most of the summer. Other fun facts about Kara include these favorites: color is yellow, food is homemade perogies, ice cream is anything chocolate, book is "The Nightingale by Kristin Hannah, Movie is 1985 "Alice in Wonderland', Song – anything 80's, Prince, Eric Church or Justin Bieber; Sport is ringette/surfing, and she has a weakness for water bottles, Sanuk flip flops and anything 'trees'!
Jan-Marie Bucholtz, M.S., R.SLP, CCC-SLP, SLP(C) - Speech Language Pathologist
Jan-Marie is very energetic and passionate about providing exemplary services to the children she works. From the moment Jan-Marie enters a home or classroom, the child is engaged and motivated to both achieve and surpass their goals. She quickly creates a trusting relationship with the families and provides relevant feedback and strategies to support their children successfully. Jan-Marie is an asset to every team with her willingness to collaborate and share her knowledge to strengthen the child's program. Jan-Marie's brilliance and greatness shine in all she does!
Even before she was a teenager, Jan-Marie took an interest in speech therapy when her cousin received therapy as a baby/preschooler with Down Syndrome. After high school, Jan-Marie left her hometown of Calgary to attend school in Minot and completed the last two years of her undergrad and graduate school at Minot State University. From there she moved to Medicine Hat (worked in Brooks) and finally back to Calgary. Jan-Marie has been an SLP since 2010 and a definite highlight is watching her students meet and exceed their goals. She has done a lot of professional development in Social Thinking and has even completed a course in Boston at one of the Social Thinking centres. Not only does Jan-Marie like working with children with social language challenges and articulation delays, but she also enjoys supporting their growth at home and in the classroom. With an aptitude for technology, Jan-Marie creates activities and articulation cards for families and Big PLANS Child Development Specialists.
When she is not working, Jan-Marie and her husband Jeff enjoy being outside playing slow pitch, golfing, and skiing. They also enjoy eating so are often found having dinner out with friends on the weekends. Jan-Marie has many other interests too. Some may be surprised to know that she loves roller coasters and belongs to a knitting group with some girlfriends! Some of Jan-Marie's favourites include Colour – Pink; food – tacos; sport – soccer; team - Chicago Blackhawks and Chicago Cubs; movie - Sound of Music; place to visit – Croatia; and book - To Kill a Mockingbird. Jan-Marie and Jeff have a rescue cat named Dasha who came from a farm in Camrose. Dasha is their "baby" right now; however, won't be the only baby in the house for long as Jan-Marie is expecting in July this year!
Kathryn Taylor, RSLP, SLP(c) -Speech Language Pathologist
Kathryn is a pleasure to work with. Her gentle and positive approach paired with fun and engaging activities inspire and motivate her students to reach their highest potential. Kathryn is always quick to respond to emails and to offer suggestions and feedback when team problem-solving. She truly exemplifies what it is to be a B.I.G team member. Recently a parent offered this feedback regarding Kathryn: "I wanted to thank you ladies so much for your help with R. His speech is so much clearer... The difference is amazing. I'm so happy that there are programs out there like this one. Kathryn, you've been such a positive presence in my child's life and R has loved his sessions with you!" Thank you for all you do to support our students Kathryn!
With a contagious smile and a remarkable sense of humour, Kathryn's affable manner makes her a natural in working with children and their families. Holding her B. Ed (UBC) and MSLP (U of A), Kathryn always knew she should work with children so speech ended up being an instinctive choice. Joining the Big PLANS team in 2013 after working in the school-setting, Kathryn now enjoys working with the entire team of professionals (ie OT's, Educational Coordinators, Teachers) in addition to the children and their families. Kathryn finds every child to be like a little puzzle and she never tires of trying to find out what motivates them and makes them want to learn. Since the job is always changing and demands new ideas and skills, Kathryn is continuously inspired. In addition, she is continually amazed at how a small gain in ability can bring a significant change in confidence for a child.
When she isn't working, Kathryn enjoys spending time with her husband, Scott, her three children (Noah – 14, Sage – 12, and Leah – 9). Her family can often be found cross-country skiing (or racing!!) in the winter and bike riding or hiking in the summer! Kathryn also loves the water, admitting that she looks forward to rainy days so that she can put on her rubber boots to walk in the rain and someday she would like to live really close to the ocean. Kathryn met her husband on a sailing trip that took them around the world and they continue to share their love of adventure with their children, whether it's exploring close to home or further away!
Dayna Jansen - Occupational Therapist
Dayna Jansen (OT) - Dayna is such a blessing to have on my team. She is someone I look to for advice and good ideas! She works so hard to understand and support the individual needs of her students, and this enables her students to reach their best outcomes. She genuinely cares for her students and this care is evident in the many ways she supports her students. Dayna is usually the first to meet deadlines; she reaches out to her team members often to check in; her programming is innovative, current and her influence is often observed in the classroom. Dayna makes work fun and engaging, and she always has a warm smile to share with everyone she meets. Thank you, Dayna, for your always B.I.G approach to everything you do!
Born and raised in Calgary, Dayna originally wanted to by a physiotherapist so graduated from the U of C in 1999 with her BSc Kinesiology in Biomechanics. However, when she learned about Occupational Therapy and the broad range of options that included a mental health component, she knew that OT was the better choice for her. Dayna graduated in 2002 with her BSc in Occupational Therapy from the U of A, and has been working with children as an OT for 13 years. The first 11 years, Dayna was at Renfrew Educational Services working in early intervention, specialized autism services, community services in mental health contracts, and presenting Helping Kids Soar workshops. From there, she moved into the role as OT team lead for in-house programming before taking her third maternity leave. After this maternity leave, Dayna had just begun to look into starting a private practice when she was offered the opportunity to join Big PLANS. Now, in her second year with Big PLANS, Dayna is thrilled to be working directly with children and families again. She is also delighted to be part of teams that have so much experience.
As an OT, Dayna is passionate about working with children and their families. She believes that children will always surprise you if you can figure out what makes them tick. Dayna fondly remembers working with a family whose son had many sensory based behaviours and needs. It was very challenging for him to be at school and his parents were really struggling at home. After getting to know their son, Dayna gave them a copy of "The Out of Sync Child", by Carol Kranowitz, to read. The Dad came back to the school a month later to thank Dayna for helping him. The Dad now understood that he needed to change how he approached and interacted with his son, rather than his son needing to change. Dayna admits that moments like these, when she can see her positive impact on a family, provide huge rewards. Having the chance to present and share the unique perspectives of occupational therapy, particularly in sensory processing, keeps Dayna enthusiastic about her job.
Dayna is happily married to Jeff Nessler, a physio she met while at U of A; and a proud mom to three children (daughters Avery – 6 and Maya – 4 and son Noah – almost 3). As a family they like to be together outdoors, whether it is skating, skiing, biking, or going to Canmore; and they also love snuggling up together to watch movies. She also enjoys spending time with close friends going to dinner and or hanging out to indulge in reality TV. Before getting married and having kids, Dayna loved to play basketball. She made a decision to defer going to U of C for two years to try out for a college basketball team. Despite her "lack of height" she was thrilled to play during her second year.
April 2018 B.I.G. Awards
Susanne Williams – Occupational Therapist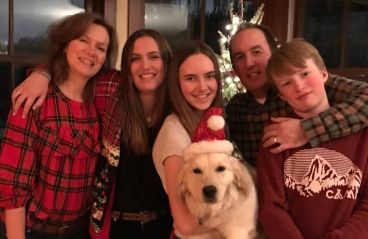 Susanne Williams exemplifies all the acronyms of B.I.G. Susanne is innovative in the strategies she uses with the children she works with and you can be guaranteed each child has a smile on their face after they have spent time with her! Whether she is providing individual instruction, or teaching social thinking strategies in a classroom setting, each child responds to her positive, creative and respectful approach. Susanne is a valuable member of our team. She is always available and ready to collaborate with any of her team members, often jointly working together with the speech therapist to ensure our services are effective and goals are being achieved. Susanne inspires our team with her positivity! She is caring, professional and understanding with the families we work with and they have the utmost respect for her. It is a privilege to have Susanne on our team and she is truly deserving of this award.
Susanne had a connection to Occupational Therapy from an early age as her uncle, who has Down Syndrome, was always excited to give everyone gifts he had made in OT. Not only did he inspire her as a child, but at age 70 he still continues to do so.
Susanne grew up in Markham, Ontario, and obtained her B Sc. in OT from Queen's University in 1990. She moved to Calgary after graduation, with the intention of trying it out for a year but never left. With a calm nature and talent for problem-solving, Susanne loves Occupational Therapy because she is able to look at the "whole child". She also describes herself as a "brain nerd," having previously worked for many years in adult neurology.
Hearing fantastic things from friends and colleagues, Susanne joined the Big PLANS team three years ago and is confident that she made a very wise choice. She was even invited to a sleepover by one of her sweet kiddos during her first year with Big PLANS!
Happily married to Mitch Williams; and a proud mom of three (Lindsay - 18, Abby - 16, Gavin – 14), Susanne can often be found walking or hiking with her family and dog, spending time with family and friends, or hanging out at the hockey arena or the pool watching her son compete! Their young Golden Retriever named Hazel comes from a line of therapy/assistance dogs, so Susanne and her daughter hope to complete this training with the aim of Hazel joining Susanne on therapy visits when appropriate.
On a Sunday, Susanne loves to go hiking or curl up with a great book, attend her favourite yoga class and then prepare a tasty family meal. Desserts are her specialty! She started painting in the last few years, and is hooked! Passionate about reading and books, Susanne has been an active volunteer in children's reading programs for many years. She and her family love to travel, and a trip to Kenya in 2014 (with Free the Children/Me to We) was unforgettable and life changing!
Lisa MacDonald – Child Development Specialist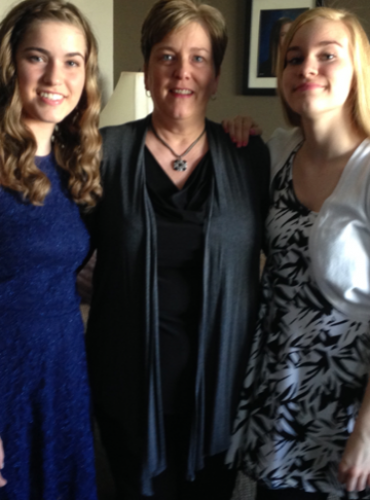 Lisa was nominated in April for the incredible support she provides. Not only does she support her families and her schools on a daily basis, but also her fellow Child Development Specialists. Lisa is always available to lend a hand in her quiet, supportive manner and is there to offer encouraging words when needed. Lisa consistently puts the needs of others before her own and genuinely cares for everyone lucky enough to meet her.
Born and raised in St. John's, Newfoundland, Lisa moved to Calgary in 1997 in search of employment as she also had family living here. After working as an administrative assistant for seven years, she was introduced to Big PLANS while volunteering at her daughters' school. The flexibility of hours worked perfectly, allowing Lisa the opportunity to be home before and after school with her own children. After seven years with Big PLANS, Lisa feels fortunate to work alongside therapists, teachers and women who bring so much experience and knowledge to the organization. Lisa loves working with children and has a special way of connecting with them, finding their big and small successes to be the most rewarding part of her job.
When Lisa is not at work, you will find her spending time with her family on the weekends, playing board games and in the summertime, she enjoys camping, hiking and biking in the mountains. Lisa also loves baking. In fact, if she wasn't working for Big PLANS today she would probably own her own cake decorating business! Married for 18 years this coming July, Lisa and Don have two daughters (Hailey 16 and Kayla 14). Lisa admits that she would find it impossible to give up chocolate and coffee and still lives by a lesson her mom taught her: "No matter what happens in life, Do What Makes You Happy!"
March 2018 B.I.G. Awards
Kim Collins – Child Development Specialist
Kim Collins was nominated in March for being an outstanding Child Development Specialist and a very respected and valued member of the Big PLANS team. She is an advocate for her PUF children and takes her role very seriously which helps her strive for excellence. Kim has a genuine love for children and the families that are fortunate enough to work with her. Her intuition and calming nature benefit those children she engages with. Kim has excellent verbal and written communication skills which is an asset not only on a daily basis, but especially at IPP meetings. Brilliant, inspiring and great describe the work Kim does for Big PLANS.
Born and raised in Winnipeg, Manitoba, Kim grew up using sign language as her primary form of communication as her parents were hearing impaired. After high school, she volunteered at the Manitoba School for the Deaf and loved it! This positive experience helped Kim decide on her career path, to work with people with disabilities.
Kim came to Big PLANS in October, with a wealth of experience after working for over seventeen years in the field. After obtaining her Disability Support Worker Diploma from Manitoba, Kim moved to Calgary. She soon began working at Renfrew Educational Services and over a 15 year period, held multiple positions including: Child Development Facilitator, Therapy Assistant, Program Manager and In-Home Programming Coordinator for Children with Autism.
Today, Kim still loves to find new strategies to help children succeed and is willing to try almost anything! After working with a child, it is a major highlight for her to watch them make progress in the classroom and begin to interact with their classmates.
When Kim is not working, you can find her staying busy volunteering at her kids' school (Dew 14 yr, Ayla 12 year). When she finds spare time, she really enjoys crafts and cardmaking. Kim also spends a lot of time with her husband, Vaughan, and kids. As a family they enjoy camping, skiing, biking and hiking. Her favorite book is Be Frank With Me and when asked what would be impossible for her to give up, she has no doubt it would be COFFEE!
Jackie Bennett – Educational Coordinator/Common Approach Lead
Jackie was nominated in March for being such a hardworking, organized, helpful, knowledgeable, and caring Educational Coordinator - all of the time. She makes sure everything is perfect, spending the time she needs to ensure her job is done to the best of her ability. Jackie can always be counted on when help is needed and is such a pleasure to work with.
After completing four years of statistics, economics, finance, and accounting at Simon Fraser University (Bachelor of BA 1994), Jackie realized business was not the place for her. So, when her husband Dave had a career move from Vancouver to Calgary, Jackie applied to the After Degree Program at the U of C. She completed her B. Ed in 1997 and went on to work at Dr. J.K. Mulloy Elementary School for over three years in the various positions of a kindergarten, grades one and two, and an early reading intervention teacher.
When Jackie and Dave became parents in 2000, Jackie realized that having a family and being a mom was the most important thing so made the decision to stay home with her three daughters (Emily – 17, Hannah – 15, and Claire – 12). After twelve years at home, Jackie was just exploring possibilities of looking for work when she was presented the opportunity to work at Big PLANS.
Highly organized, with a desire to work hard and help others, Jackie has been an asset to the Big PLANS team and loves working with children in their homes. In fact, she has always loved the preschool age group since her university days as a preschool swim instructor. Working to find new activities and resources for parents to help them with their child, keeps her job incredibly interesting. Watching the various emotions of happiness, relief, and excitement on the faces' of parents at the various stages of intervention makes it all worthwhile. Jackie realizes that working with others, she really can make a significant difference in the lives of preschool teachers and families.
On the weekends, Jackie can usually be found cooking, doing things for her family, or going on long road trips with them. She is often busy watching her girls swim (they are in the University Swim Club), ski, bike and grow! In her spare time she enjoys gardening, reading, watching movies, entertaining, biking, skiing, and exercising outside with friends and family. In fact, her family completed the hike to Conrad Kain Hut in Bugaboo Provincial Park (700 meters of elevation gain in 3.5 km). When asked what job she would pick if she was not in the position she was today, Jackie thinks she would run a bed and breakfast with Dave in the Okanagan Valley!
Shelley Horn - Educational Coordinator
Shelley is one of the most kind, caring and understanding colleagues you will meet. Not only is she always willing to help, listen, and offer suggestions/ideas, she is thoughtful and goes above and beyond when she can tell someone needs extra! Shelley works so hard and never gives up until everyone has been helped or the problem is solved. Shelley is the perfect example of a person exemplifying Brilliance, Inspiration, and Greatness, and those that have spent time with her all agree!
Ever since she was a little girl, Shelley knew she wanted to be a teacher . . . and she never deviated from that dream. A native Calgarian, Shelley graduated with her Bachelor of Education with a Major in Special Education and a Minor in Early Childhood. Although she took a few years off to spend time with her daughters, (Michelle, MacKenzie and Kennedy) she has been in the teaching profession for over 20 years.
Shelley was introduced to Big PLANS four years ago and knew it would be an excellent fit. Organized, compassionate and creative in nature, Shelley loves doing things for others and helping people in any way that she can. Not only did this position mean she would be working with passionate and skilled colleagues who were committed to early intervention and providing outstanding services to pre-school children; but she would also reap the rewards of seeing the smile on a child's face when they experience success. Over the years, Shelley has held many different positions in the education field and with this experience she has gained the understanding necessary to work compassionately with children and their families. Knowing she has made a difference so that a child can have a positive start to their school experience makes it all worthwhile.
When she isn't at work or volunteering with causes that are dear to her heart, the majority of Shelley's time is spent watching her children's sports activities and spending time with her girls and husband David. On a Sunday afternoon Shelley loves to curl up with a good book or magazine. She is a passionate reader, likes going for long walks, and travelling. On the weekend she often entertains friends and family as Shelley likes to cook. She is most happy when the house is full of her kids and their friends!
Sarah Degnen – Child Development Specialist
Sarah was nominated for the March BIG Award for taking on a new challenge and doing a fantastic job at it. This year Sarah expanded her role to include being a Parent Coach for a common approach family. The family and child are greatly benefiting from her strong communication skills and knowledge base, and her genuine concern for the family is evident in all she does.
When Sarah first came to Canada, from the Midlands in England, she volunteered at her son's kindergarten class. It was apparent that Sarah had an affinity with children and she was soon entrusted to complete work with special education children outside of the classroom. Soon after, with a recommendation from the principal, Sarah began her work with early intervention children.
Three years ago, Sarah joined Big PLANS as a Child Development Specialist. If you watch Sarah work in a preschool classroom, you will soon realize that her caring demeanor is infectious with both adults and children alike. Understanding what is needed to help people, from both a professional and parenting perspective; Sarah has an innate sense of judgment and can clearly communicate with people on any level
Sarah feels blessed to be able to work with such an amazing team that help to bring out the best in her and the children they work with. Her personable nature and love of children is a definite asset to the Big PLANS organization. Sarah enjoys building lasting relationships with parents, specialists and schools; as well as watching her young people become as ready for kindergarten as possible. Although she loves working with all children, Sarah's passion is in helping behaviour, severe ASD and severe SLP children. Witnessing these children turn small steps turn into huge leaps is extremely exciting, whether it is simply an understanding and correct pronunciation of a word or a successful day at preschool. Sarah hopes she can make the contribution necessary to give children the skills and means to communicate verbally and non-verbally.
Sarah also appreciates the continuous learning opportunities the work provides, and her love of learning is evident as she holds a Diploma in Child Development Psychology (with honours), a Teacher's Aide Diploma, an English speaking Diploma, and a Legal Secretary Diploma.
Although many do not know this, Sarah was once a world champion Disco/Ballroom dancer. She is also a proud mom to her ten year old son Louis (and a Bizon Shih Tzu named Tito), and believes Sunday afternoons are best spent relaxing with food and wine. When asked about her greatest life lessons, Sarah said they have come from her mom. Not only did her mom face challenges, but she did it while bringing up two children on her own and continuing her career as a registered nurse. Sarah watched her mom be the best single parent she could, even when times were hard. She always gave Sarah the strength to believe in herself, to never give up, and taught her that everyone is different but still in need of understanding. Most importantly, Sarah continues to follow her mom's life mantra, " if you always do what you always did, you will always get what you always got!"
Chantal Aussant-Huhn - Speech-Language Pathologist
Chantal is a knowledgeable SLP who has an amazing rapport with her kiddos and families. Not only does she "push" kids to reach their goals, but she has so much fun along the way that the kids do not even realize how hard they are working! Chantal is always prepared for each session or IPP and goes above and beyond what is expected. It is a pleasure working with Chantal and she is much deserving of the B.I.G. Award.
Chantal always knew she wanted to work with children but was not convinced that she wanted to be a teacher. She first heard about Speech-Language Pathology from her aunt that was an SLP assistant but it wasn't until after high school when she was traveling around Europe with friends that she realized she wanted to be a SLP. Chantal applied to University while she was away travelling and was accepted. Chantal completed her Master's in Speech-Language Pathology at Minot State University 20 years ago. Since that time, traveling, university and work have taken Chantal to many places away from her childhood home in Saskatoon. She currently resides in Airdrie with her husband, Mark, and two children (Ayla -12 yrs and Jakob -10 yrs), where she has been for almost ten years (the longest she has lived in one place since high school).
Chantal first met Carmen many years ago when they worked together for Alberta Health Services. Carmen and Chantal reconnected the summer before Big PLANS became operational and Chantal has been with the team ever since.
Chantal's incredible patience and her passion to empower parents to support their children in their communication journey have been an asset to the organization. Not only does Chantal love watching the change parents see and the role they have played in that change but admits it is impossible to have a bad day when faced with little smiles each and every day.
Years ago, a colleague told Chantal that children are just like us but they haven't yet experienced all that we have. She now uses this guiding principle in her work as an SLP and as a mom. She has found this principle provides perspective on the expectations we have for little people because they just haven't lived all of their experiences yet.
Chantal truly loves the work she does and cannot imagine doing anything else. In fact, her passion shines so brightly as she works with children that many parents have remarked that they can see Chantal really loves her work.
With a son that plays hockey and baseball, and a daughter that swims competitively, Chantal and Mark are usually found at a pool, an arena or sitting at a ball diamond – and Chantal loves every minute! When she isn't working or watching sports, Chantal escapes from the busyness through running (especially with their rescue dog Hugo) and reading. Travel is also a big part of their family, and they love to explore new places each summer. In fact, three years ago Chantal's family participated in their first Home Exchange. They spent three weeks in Aruba, living in another family's home while that family lived in Chantal and Mark's home in Airdrie. They have since done a second home exchange with a family from Alabama. They truly love this type of travel, where they can immerse themselves in local culture and find hidden treasures. Their next goal is to do an exchange with a family in Iceland
Jennifer Cross - Child Development Specialist
Jennifer is a dream team player! Her skills, devotion to her clients and "go get 'em" attitude, surpass all CDS job requirements. Jenn is very goal oriented and when she sees something that needs to be done, she's on it! It is not unusual for a team member to mention something and then very next day Jenn has created (and laminated!!) the material needed so that it is ready for implementation! She is passionate about her students and the love she has for them shines through all her connections with them. Her kids adore her and it is touching to see the way they look to their "school mum" for reassurance and confirmation that they are on the right track. But... best of all, Jenn is a blast to work with! Her dry sense of humour has us all giggling and she has a way of keeping things fun - such a breath of fresh air when things are hard and heavy. It is such a pleasure to work with Jenn and we look forward to working together for many more years to come!
An Alberta native, Jennifer, or Ms. Jenn as the kids call her, lived in Edmonton until she was ten years old and has been in the Calgary area ever since. Jennifer first met her future husband, Graham, in the 8th grade and they were married in 2004. Ten years ago, they moved their family to Langdon and love the small town atmosphere where they raise their two daughters, Hannah (11) and Linnea (8).
After filling in as a teacher's aide at her daughter's preschool in Langdon, the teacher recommended Jennifer to Big Plans and she joined the team in December 2014. Jennifer definitely has the experience in helping Big PLANS children to be successful at home and in school, as she is able to use her experience gained by working with her own daughter who has ADD. Jennifer truly feels the best part of her job is learning from all the different teachers and therapists on the Big PLANS team. She also really enjoys working with speech kids as she has an ear for understanding them.
In addition to working for Big PLANS, Jennifer has been a Girl Guides leader for six years (Five years with Sparks -5&6 year olds and this year with Brownies - 7&8 year olds). When she isn't working or volunteering, Jennifer enjoys camping, boating and fishing with her family during the summer and playing board games with her family, friends and neighbors. Jennifer admits that hers is a "dog family" (right now with a little yellow lab mix named Jovie) and they love everything Marvel. Jennifer also revealed that she LOVES everything about Christmas – from the decorating, the movies, and the music to the baking and the magic of the holidays! She also loves reading, is a FB junky, and has a twin sister!
February 2018 B.I.G. Awards
Rachael Hinz - Educational Coordinator, Project Lead for FSCD Common Approach
Rachael was nominated this month going ABOVE and BEYOND for her team and families she works with. Rachael is very kind, approachable, supportive and always willing to help. It is a pleasure to be on a team with Rachael and her team always looks forward to meeting with her to hear her ideas or comments.
Holding a B. Ed. from the University of Saskatchewan and an M. Ed. from Gonzaga University, Rachael taught high school math for ten years in both California and Calgary. She also tutored math independently for over ten years. But Rachael jokes that she received her greatest education for this work through her own son, who was diagnosed with a language delay at his preschool and was supported by an amazing Big PLANS for Little Kids team. At the time, Rachael learned as much as she could about speech-language therapy and then she designed natural play moments at home that would support her son. Rachael became passionate about the value of early intervention and, soon after, she began coordinating programs for Big PLANS. She has found the work immensely rewarding when she witnesses the growth in competence and confidence in both kids and their parents.
Rachael loves learning herself. One of the highlights of her work is the open-minded collaboration she has with her brilliant colleagues from various disciplines. Teachers, therapists, parents, and Child Development Specialists have so much talent, perspective and knowledge to give. The result is "out of the box" thinking and solutions that could not have been arrived at individually. Rachael believes that effective teams encourage amazing results in children. We can 'change the world' by giving children important skills that will support their success at school. And ironically, the kids we work with will teach us too!
When she is not working, Rachael loves spending time with her husband (of 20 years this May!) and her two kids (10 and 13 years old), who continually remind her how to stop and have fun. She is always eager to leave the city in order to snowboard, mountain bike, hike, and camp. She loves having family or friends over and live music events are usually on her calendar. But if it is a quiet evening, you will likely find her curled up with a book.
Stacey Wee - Child Development Specialist
Stacey has been nominated for her absolutely amazing work as a CDS in the kindergarten class at Foothills. She is more like a full classroom assistant as she helps with classroom planning and routine, even coming in on her own time to help the teacher. In the fall, she volunteered in one of the other classes that had some difficult children we were looking at, just to help out the teachers. Stacey adopts all of the Big PLANS children with MM funding in the classroom . . . often sitting with them all at her table to help them. Stacey is a master at collecting resources and making her own materials. Not only does she gather items for her children on her PUF caseload, but for the MM children as well. In addition to writing notes for her Educational Coordinator, she makes up charts and information and keeps in constant contact with all therapists. She even made presents at Christmas for the whole class and makes materials for the teacher. Stacey constantly goes above and beyond and is very deserving of this award.
Born and raised in Calgary, Stacey married her high school sweetheart (in fact, Stacey and Bill will celebrate their 33rd wedding Anniversary in April), and worked as a Trust Officer with Royal Trust before having children. When her daughter was born, Stacey felt fortunate to have the choice of being a stay at home mom. While raising her children (daughter Ashley, now age 28 and works at Spruce Meadows; son Patrick, now age 24 – attends University of Calgary), she was able to do a lot of volunteering in both her daughter and son's elementary grades. On top of this, Stacey volunteers with Reggaefest Calgary. the Kids Cancer Camp Friday BBQ lunch in the summer, at Spruce Meadows Horse Shows and recently at CBC Calgary Reads Book Sale. She also loves to play games; preferably with other people, but she has also been known to challenge the computer at a serious game of crib. Those who know her, agree that Stacey always has a song in her head and a smile on her face. In fact, Stacey admits that her sense of humor has broken down many barriers for her over the years. When fear or apprehension comes knocking, the first question Stacey asks herself is, "What is the worst thing that could happen?".
January 2018 B.I.G. Awards
Meagan Marriott – Educational Coordinator
Meagan was nominated this month for all of the hard work, time, and effort she puts forth to help the families that we work with. Recently, we had a little guy referred to us that has hearing challenges. Although this child may not end up on the Big PLANS caseload until after his hearing concerns are addressed, Meagan has worked tirelessly to help support this family and coach them in how to advocate for their child. In addition to this, Meagan is always a supportive team member, a great person to collaborate with, and a solver of problems. It is a privilege to have the opportunity to work with Meagan, and I truly feel that having someone like her on our team makes us all better at our professions.
Ever since she was a child, Meagan wanted to be a teacher. However, the year she applied to University, she found the process had changed. Because of this, Meagan ended up going into Community Rehabilitation and Disability Studies on a bit of a whim, majoring in children with severe emotional and behavioural disturbances. It was a blessing in disguise as Meagan found out that she loved learning about how to work with marginalized populations.
It wasn't until she completed her education degree and actually started teaching that Meagan realized "teaching", in the general sense, was not what she wanted to do after all. Then, during an incredible teaching experience at William Roper Hull (a CBE school offering specialized and individualized programs for students with severe behavioral and emotional difficulties), Meagan learned a tremendous amount about the treatment of behaviours and discovered she could blend her love for psychology with her teaching background.
Work has an important place in Meagan's life and she is driven to always push to do more, do better, and be better. One of Meagan's strongest values is to be of service and she feels blessed that her career allows her the opportunity to serve every day. Working for so many years in early intervention continually strengthens her belief that this work is absolutely vital to not only the children and their families directly but to our society as a whole.
Meagan's strongest passion in her life is her family. She is blessed with two incredible children and an amazing husband who shares her fire for life. Together the family especially loves to camp, study Spanish (the family is bilingual), play games, read and travel! Travel is especially exciting to Meagan and her husband as together, they have traveled to over 15 different countries and made the most incredible memories on these trips! Next year they are planning their first backpacking trip with the children and planning to go to Costa Rica for a month!