Our Team
Our therapy staff is comprised of highly skilled and dedicated professionals who are licensed and/or certified in accordance with regulations. We hire therapists and other early childhood services professionals who are as passionate about helping children as they are accomplished in their field.
Your child deserves the best treatment available. When your family works with our therapists, we provide it to you. Together.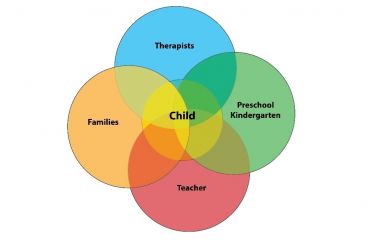 EARLY LEARNING SPECIALIST (Certificated Teacher)
Early Learning Specialists are certificated teachers that are contracted to work with Big PLANS. Early Learning Specialists coordinate the communication between all team members and their responsibilities include:

writing and updating IPPs as well as scheduling and hosting the IPP meetings;
providing mentorship and support for CDFs concerning working in the classroom;
writing lesson plans for CDFs for Individual Education Hours and ensuring CDFs have the materials required to carry out these plans;
providing each of their PUF and Mild-Moderate families with a Big PLANS NEWSLETTER five separate times during the year;
completing four observations for each PUF child (45 min each) and four Child Development Facilitator visits per child; (also 45 min);
collecting attendance sheets for PUF and MM students from their respective preschools;
mediating the contact between Big PLANS staff and the therapists regarding the children on their caseloads. Assist in coordinating schedules between you and the therapist to make sure you can attend as many therapy sessions as possible;
notifying Big PLANS staff of any changes to your child's information; (school transfers, changes in class times/schedules, teacher changes);
observing therapy sessions;
conducting FOPS (Family-Oriented Programming Sessions);
completing Referral Packages for kindergarten in order to provide a smooth transition of services.
CHILD DEVELOPMENT FACILITATORS (CDF)
Child Development Facilitators (CDF) are employees of Big PLANS for Little Kids and are hired to work with individual children in a preschool setting. The majority of our CDFs have Early Childhood Level 1 or equivalent and/or extensive experience working with children with special needs. Child Development Facilitators are supervised by an Early Learning Specialist (certificated teachers) whose job it is to ensure that all team members are working together to help the child meet his/her IPP goals. Child Development Facilitator responsibilities include:
providing regular support and guidance to assist the child in following preschool routines, fostering appropriate peer interactions, understanding the preschool curriculum and self-regulating his/her behaviours;
arriving at least 15 minutes before your child's class begins. This is paid time and will be used to prepare for the day with your child. CDFs will spend time talking with your child's teacher. They will discuss the schedule for the day, brainstorm strategies and decide on the goals to target that day;
adapting and preparing instructional materials as needed;
implementing strategies to address IPP goals;
completing tasks as assigned by the child's therapist(s) and Early Learning Specialist;
actively participating in the child's progress review by attending all IPP meetings and collaborating on the updates;
filling out their time-sheets accurately and ensuring they are signed by their classroom teacher every two-week period;
completing daily reports. These reports require a parent or teacher's signature. Daily reports are to be sent home once every 2 weeks;
communicating daily (in person or by email, text or phone) with parents to fill them in on what their child worked on that day. Sometimes a communication journal between home and school is a good communication tool if a CDF does not see parents in person on a regular basis; (ie. nanny or grandparent picks up the child from preschool);
supporting children in participating fully in classroom routines and activities. In consultation with your Early Learning Specialist, it may be decided that your child should be "pulled out" for ~ 10 minutes each class or once a week for direct work on specific IPP goals as suggested by the Early Learning Specialist and/ or therapists using materials suggested by the Early Learning Specialist and/or therapist. The best time to do this "pull out" should be determined in conversation with the classroom teacher in advance;
attending therapy sessions and taking therapy notes. Child Development Facilitator may bill one hour for each session observed. These sessions serve a number of purposes. They provide intensive one on one therapy for the child. They allow a CDF a chance to observe a therapist modelling and practicing strategies with the child. Much of what is seen can be modified and used in the classroom with the child. CDFs are encouraged to attend as many therapy sessions as their schedule allows. (minimum ONCE per "semester").
THERAPISTS
Therapists are contracted by Big PLANS to provide a variety of specialized therapy services to the children who are receiving PUF or MM funding.
Therapists responsibilities include:
conducting formalized assessments, interpreting results and communicating the results in writing to parents, members of the team and the Big PLANS office;
delivering therapy and record contact notes for each therapy session and sharing this information with parents, CDFs and Early Learning Specialists; (verbally and in writing);
participating collaboratively with the team and maintaining communication on a frequent and ongoing basis;
providing specific goals and strategies to be included in the IPP;
reviewing IPP goals and objectives a minimum of 3 times a year;
providing resources, mentoring and ideas to CDFs;
contacting the parents, school, and CDF directly if she/he will not be coming or will be late for a regularly scheduled visit.
Speech-Language Pathologist (SLP)
Big PLANS for Little Kids consults to Speech-Language Pathologists. Therapists are responsible for providing assessment, therapeutic and consultative services specific to their discipline and areas of expertise for children identified by classroom teachers, parents or through observation as falling within given eligibility criteria for funding requirements. Their speech-language goals provide the framework for programming.
Areas of Focus:
Helping children to speak clearly and fluently;
Helping children to understand the language being used;
Helping children to be able to use language to express ideas, thoughts, feelings, and needs;
Helping children to understand social communication and play with others.(* Early Learning Strategies from Edmonton Catholic Schools, 2012)
The frequency and the total number of direct therapy sessions are determined both by the level of funding that the child is approved for as well as the level of need identified by the individual therapist. A child who qualifies for Mild-Moderate funding will not be eligible for the same number of sessions that a child who qualifies for Program Unit Funding is eligible for.
Occupational Therapist (OT)
Big PLANS for Little Kids consults to Occupational Therapists. Occupational Therapists are responsible for providing assessment, therapeutic and consultative services specific to their discipline and areas of expertise for children identified by classroom teachers, parents or through observation as falling within given eligibility criteria for funding requirements. Their OT goals provide the framework for programming. Occupational Therapists assist children to efficiently perform the many day-to-day tasks of self-care, productivity, and leisure in order to enjoy their childhood.
Areas of Focus:
Gross Motor Skills
Organizational Skills / Praxis / Motor Planning
Fine Motor Skills
Visual Processing Skills
Task Engagement: Learning and Play Skills
Sensory Processing
Physical Therapist (PT)
Big PLANS for Little Kids consults to Physical Therapists. Physical therapists are responsible for providing assessment, therapeutic and consultative services specific to their discipline and areas of expertise for children identified by classroom teachers, parents or through observation as falling within given eligibility criteria for funding requirements. A physical therapist's goals focus on restoring, maintaining and maximizing strength, function, movement, overall well-being and increased independence.
The role of the physiotherapist is to provide functional, safe and educationally relevant approaches to the management of children with special needs with the aim of enhancing their participation in the educational program and enhancing access throughout the home, school, and playground.

Areas of Focus:
Gross Motor Skills
Coordination and Motor Planning
Safe Lifting and Transferring
Equipment Needs
Behavioural Support/ Child Psychology
Working within a multi-dimensional team environment, members of the psychology team support families, teachers and Child Development Facilitators and help children function to the best of their ability at school, in the home and the community. Behavioural Specialists provide services to children and their families within an educational, home and community framework. A certified and licensed psychologist can offer standardized assessments of the child's learning abilities and adaptive functioning skills. This assessment may provide the team with a complete list of the child's strengths and needs depending on their stage of development and the type of referral that is being made. Psychologists conduct diagnostic assessments in selected situations where more specific information is required for treatment and funding purposes. Behavioural assessments are conducted in cases in which more information is necessary to try to explain the behavioural presentation of the child in a variety of settings.
Psychologists also provide direct intervention both in the home and school settings to address specific goals from the child's IPP. This intervention is generally offered in the context of the child's natural environment in a play based fashion and specific to the child's developmental level. Consultation and collaboration occur with family and team members on shared areas of need to ensure consistency in strategies and to ensure interventions are provided to the child and the family. The psychology team also provides education and training to parents, teachers and Child Development Facilitators. Provision of information, support, and strategies to address developmental and behavioural needs are offered on an ongoing basis. The psychologist can be the link to a consultative process that is initiated with agencies external to Big PLANS, such as FSCD (Family Services for Children with Disabilities).
Areas of Focus:
Functional play skill
Social interaction skills
Task engagement/attention to the task
"Behavioural" challenges
Emotional regulation
Anxiety reduction
Sleeping, toilet training, and eating